What is IAESTE? The International Association for the Exchange of Students for Technical Experience, commonly known as IAESTE, is an independent, non-profit student exchange organization and a student-run body dedicated to providing students with opportunities for Paid International Internships and Exchange Programs in technical fields, such as Science, Engineering, Applied Arts, Business, and Journalism.
IAESTE India LC JECRC provides students with paid, course-related training abroad and employers with highly skilled, highly motivated trainees, for long and short-term projects. We work on a valuable approach for the student's betterment and career.
With over 80 countries involve and exchanging over 4000 traineeships each year worldwide, a total of above 400,000+ traineeships, it is the largest organization of its kind in the world.
Our main aim is to help our members realize their dreams and to facilitate the exchange of ideas – both technical as well as, cultural, by connecting students from various cultures and countries. We provide a great opportunity for the members to get work experience and learn in all these countries. Offers provided a good stipend and knowledge in all fields.
We are here to connect you with the whole world and give you a platform to let you have technical experiences. Not only just the technical experiences we conduct several events to improve everyone's learning.
We've conducted sessions by various TEDx speakers, and online sessions with our foreign interns, they shared their experiences, knowledge, and culture with us. We've also conducted passport sessions, which were a resounding success. IAESTE week was organised which consisted of various speakers covering different topics and aspects of our life to mark the 75th anniversary of IAESTE.
Exchange Stats Till Now / Journey so Far At IAESTE LC JECRC Exchange department work for the incoming & outgoing remote interns, it comes into existence after the establishment of IAESTE LC JECRC in 2014:
Exchange Statistics till now / Journey so far:
| | | | | | | | | |
| --- | --- | --- | --- | --- | --- | --- | --- | --- |
| Year | 2014-15 | 2015-16 | 2016-17 | 2017-18 | 2018-19 | 2019-20 | 2020-21 | 2021-22 |
| Incoming | 11 | 08 | 24 | 28 | 21 | 03 | 02 | 02 |
| Outgoing | 09 | 02 | 15 | 17 | 12 | 01 | 02 | 06 |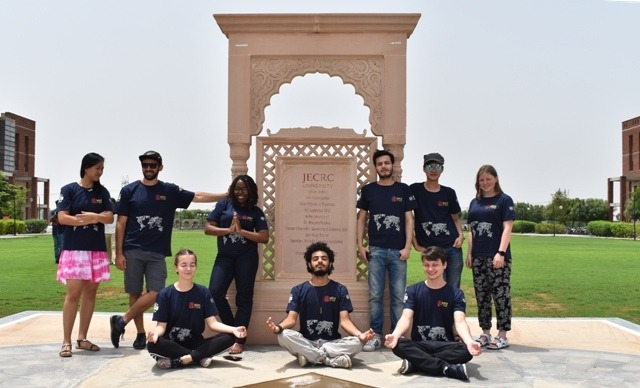 IAESTE provides internships in both remote and conventional opportunity
Conventional internships are the ones in which the intern has to go to the host country and complete the internship with the golden chance to stay and explore the host country. Remote internships are the ones in which the intern gets the facility of completing the internship at the comfort of their home.
IAESTE DELIVERS VARIOUS INTERNSHIPS AS IT PROMISES- Even in these tough times of the pandemic, IAESTE JECRC provided many internship offers from all over the world. The recent offers were from countries like Sweden, Austria, Switzerland, Hungary, and Bangladesh provided a great opportunity for the members to get work experience and learning in all these countries. These offers provided a good stipend and knowledge in all fields like computer science and IT, aerospace, electrical, microbiology, and many more.
Even in the challenging time of Covid, the newly recruited LC members were given a warm welcome and brief explanation on the working of the IAESTE JECRC and all of its departments. Each of the Department Head along with the President and Vice-President organized online meetings with the newly recruited LC members so that they can get their doubts and problems sorted and explained them the working and importance of their respective departments. New recruits were given a brief description of how they have to perform their tasks provided by the department and the organization. At the end of the sessions, recruits were assigned with some tasks to provide them the experience and knowledge about the function and process of the departments.