Wonder of Words (WoW)- 2023, The Literary Extravaganza
JECRC University organized the 11th Edition of Wonder of Words (WoW'23), one of the biggest, illustrious, and exhilarating literary fests of Jaipur on 19th Jan. – 23rd Jan. 2023. The event saw some of the most eminent and renowned personalities from the fields of literature, art, music, films and entertainment from across the world with the motive of sharing their life experiences and interacting with the young minds.The University is overwhelmed with the presence of Mr. Javed Akhtar, the iconic poet, lyricist and  screenwriter; Mr. Ikram Rajasthani, a renowned Rajasthani musical artist; Ms. Veena Chauhan, former president of Rajasthan Lekhika Sahitya Sansthan; Mr. Chandan Kumar Jangid, a theater artist and an alumnus of the JECRC University; Ms. Manisha Kulshreshtha, an acclaimed Hindi novelist; Mr. Lokesh Kumar Singh 'Sahil', an established  poet and shayar; Ms.  Rati Saxena, a distinguished poet and Mr. Indrajit Roy Chowdhary, a celebrious Sitarist who shared the pearls of wisdom with our students.
Talents like them whetted the literary appetite of our students and inspired and motivated our budding writers and keen readers with their literary thoughts by giving them a sense of belongingness. The  Wonder of Words 2023 ended on a Shayraana note with 'Jashn-e-Alfaz' wherein poets and Shayars from all over the country mesmerized the youth with their talent and skills.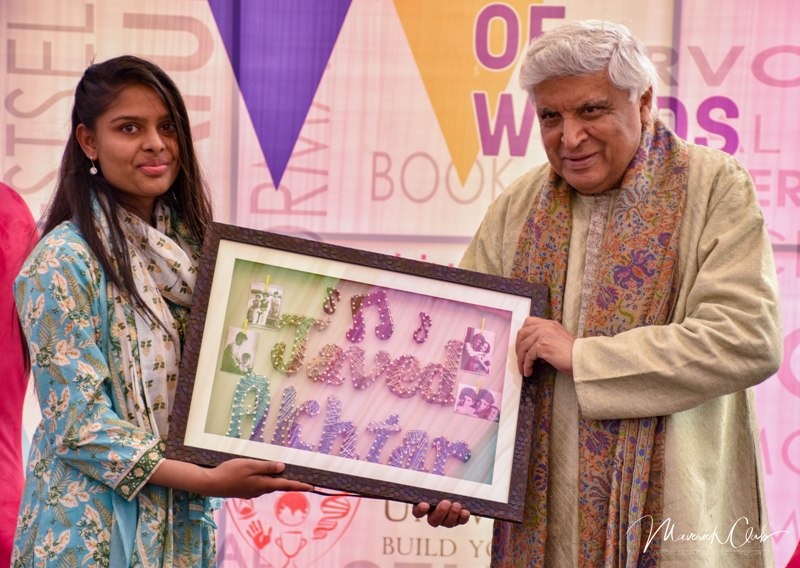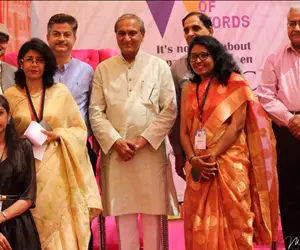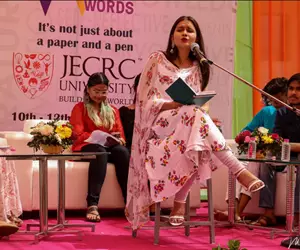 Wonder of Words (WoW)- 2022, The Literary Extravaganza
JECRC University organized the 10th Edition of Wonder of Words (WoW'22), one of the biggest, illustrious and exhilarating literary fests of Jaipur from 10th March to 12th March, 2022. The 3 day event saw three eminent and renowned personalities from the fields of literature, art and communication coming from all over the country with the motive of sharing their life experiences and interacting with the young minds The guest speaker for the exciting second day was Miss. Meghna Pant, a multiple award winning author, feminist, speaker and journalist who was moderated by one of our students, Miss. Ashini Palod. The other sessions that took place on this day were Suno Kahani and Mushaira where brilliant JU students expressed themselves through storytelling and poetry recitals. The third and the last day was graced by the presence of Miss. Sohini Roy Chowdhury, an Indian Bharatanatyam exponent, choreographer and founder of Sohinimoksha World Dance and Communications who was moderated by one of the students of our university, Miss. Natasha Joshi. The event for the third day was Paricharcha or panel discussion where JU students expatiate on the topics ,Indian culture and Historical Scriptures and Self Expression.
RHYTHM- Techno Business Cultural Fest @ JU
"JU Rhythm – Beats of Imagination" is one of the largest techno business- cultural-workshop fest that has developed over the year into so much more: a melting pot of Indian and Global culture, a launch pad for upcoming techno freak, a showcase of spectacle. JU Rhythm it's all about uniting the power of ideas with the spark of intention. We strongly believe every mind has the capacity to a better alternative out of every life. We bring a platform where in the youth come together to explore new paradigm in creativity; which is the bedrock of all growth. JU Rhythm each year brings a fresh vibe among everyone and enthusiasm is next level. The rising slope of participation graph makes us to expect more and the most promising one. With hundreds of exciting events, JU Rhythm promises to be a delight for every palate. Big names like Ranbir Kapoor, Ajay Devgan, Kareena Kapoor, Rajkumar Roy, Ali Zafar, International DJ Teri Miko, VH1 supersonic artists and many more have graced JU-Rhythm with their presence. The extravaganza hosts international artists, competitions and much more, all packed into one epic cultural fiesta! JU-Rhythm strives every year to create unique and unforgettable experiences for everyone that comes into contact with it. We seek to change perceptions, expand possibilities and serve as a reminder that things are not always as they seem to be. 
JU- Cultural Clubs & Technical Communities​
Students are encouraged to develop their extracurricular activities through these Clubs. The aim is to build their interests. The University recognizes the importance of nurturing the talent and provides the resources and acts as a catalyst for the same.
Residential life in JU hostels combines living and learning, both intricately linked with each other. Thoughtfully designed and managed, they provide the perfect setting for the academic pursuits.
Recreational Facilities ​
The University has provided for sports enthusiasts a well equipped Gymnasium, Football ground, Basket Ball court, Volley ball court, Badminton court and indoor facility for Table tennis.  The University is member of Association of Indian Universities and its teams participate in various national and international tournaments. The proposed Sports Complex planned at the campus will reverberate with energy and will inspire students to challenge themselves. Spread Over two floors the Complex will house indoor courts and zones for badminton, basketball, billiards and table-tennis besides a recreational area. Additionally,  a half marathon swimming pool with a gymnasium, Jacuzzi and spa is also planned.JU also provides professional guidance and coaching for specific sports for interested students.