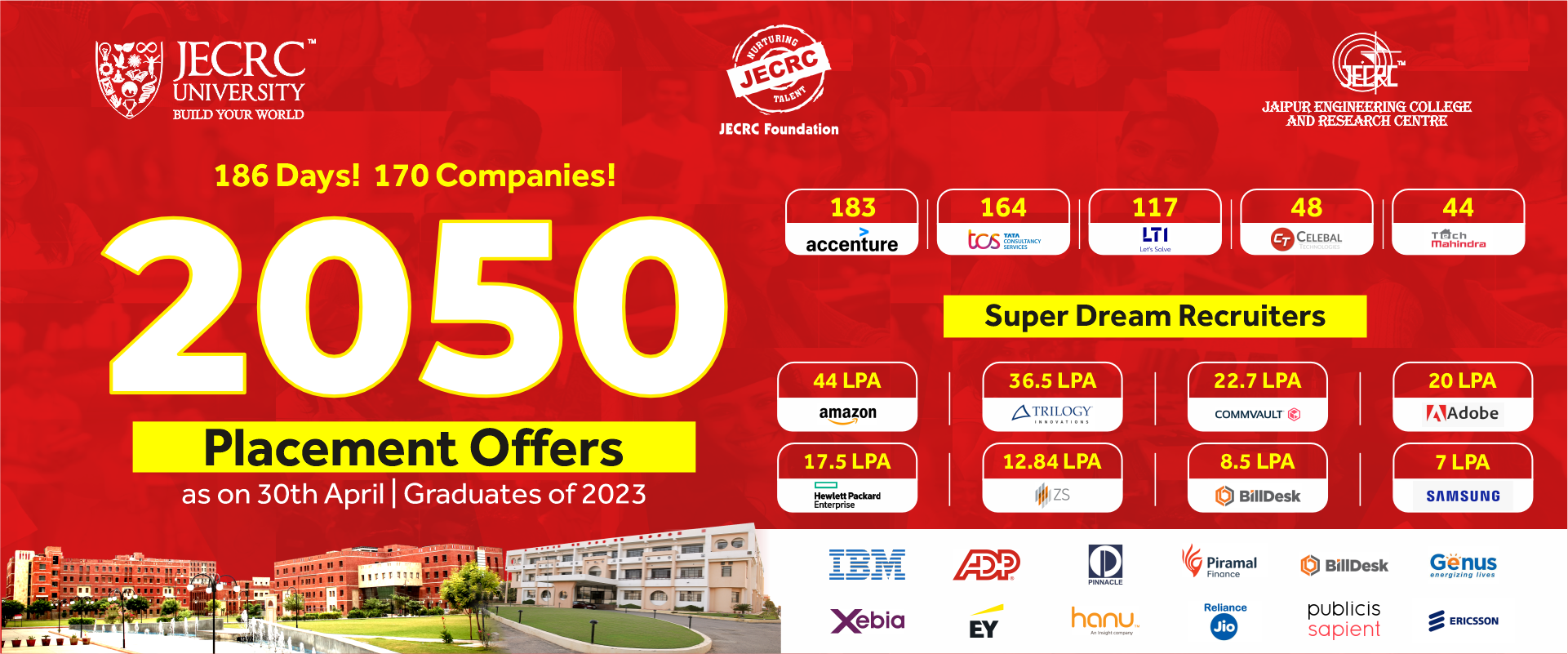 Overview and Placement Statistics
JECRC Foundation has set an exemplary record in placements with its students being chosen in record numbers by industry leaders, year after year. The focused approach of JECRC Campuses towards persistent and multidimensional grooming of student's in-line with the industry expectations has led to a sharp increase in the number of placement offers resulting in its students getting 2000+ offers consistently since last five years with increasing average salary packages.
JECRC Foundation has achieved a new height in its excellent track record of placements by getting 2000+ offers every year. Many reputable publications have rated it among the "Engineering colleges with best Placements in India" due to its students' consistent performance in placement drives/ recruiting drives by prestigious firms. Every Year JECRC Foundation receives top-notch companies exclusively for recruiting its students.
186 Days! 170 Companies! 2050 Selections!
"Persistence Guarantees, The Results are Inevitable"
It is a moment of pride for each member of the JECRC Family that within 186 days, JECRC students have received 2050 On-Campus Offers from 170 Global MNC Recruiters & Fortune 500 Companies including Amazon, HPE, Celebal Technologies, IBM, Xebia, EY, Salesforce, LTI, HDFC Life, Cactus Communications, TATA AIG, Regalo Kitchens, Myntra, AU Bank, Kotak Mahindra, Jio, Publicis Sapient, Ericsson, Future First and Taj Hotels.
The Highest Package of 44 LPA has been offered on the campus by Amazon, an increase in the Average Package to 6 LPA and an insurmountable high in Female Placements by 85% have also been recorded. Apart from all the wondrous statistics, this has been a record-breaking phase for budding Designers, Journalists, Lawyers, and Management Professionals. Alongside JECRC Engineering Students, the famous IT Mass Recruiters, Accenture and Wipro have cherry-picked our students from the School of Mass Communication and Recruiters like Nestle and Piramal Finance have bestowed their trust in our Embryo Management Professionals.
The students have performed exceptionally well in the 3rd Phase of Placements 2022- 23 (As on 30th April 2023) and captivated the companies with their skills and grabbed astounding offers from them. As we come to an end of the 3rd Phase of Placements 2022- 23, We can say that the formidable placement core team of the Inset, Outset and the Newset worked really hard from the very beginning of the placement drive and it is because of them that we successfully continue to make a difference.
The numbers are proven remarkable because of valuable efforts, the efficient design and delivery of the placement program and the efforts of the TPO team. This collective result in itself sets a great example of teamwork. This is also a testimony of the success of the placement strategies used in providing students with that transformational boost in their career that they chose JECRC for.