Jaipur School of Economics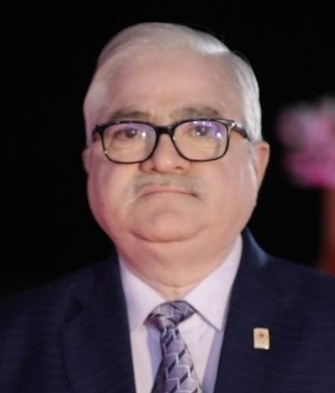 Designation – Dean and Professor
Department – Jaipur School of Economics
Qualification
Ph.D. "Price Policy in Public Enterprises" M.Phil. (Economics) M.A. (Economics), M.Com (Economic Administration)
Email- [email protected]
Research Area- Public Policy Management
Publication
Books: 07, Research Paper: 70, Seminar/ Conference: 100, FDP/ MOOC: 75
The study of economics is not only limited to the textbooks and courses instructed in school and colleges. It has always been relevant and correlated with everything and everyone, from an individual (Micro) to the entire society (Macro) at large. Economics as a sphere governs everything, from how we earn and save for posterity, to how a society is run by the government. Managing Economy through policy interventions in a country can make or break it, as we keep seeing in numerous instances all over the world. And this is something that the world is recognizing more and more every day. Political economy is an extremely important part of the state, and determines how a state will allocate, distribute and stabilize, economically, and socially.
Jaipur School of Economics at JECRC University fosters human values through an innovative teaching and learning process with a competitive and cooperative spirit altogether. The School provide experiential learning besides end to develop a tolerant and forbearing attitude towards oneself and others. The School welcomes the upcoming batches to this institution where lifelong engagement with life, humanity and success will begin.
Best Wishes !!
About The School
Jaipur School of Economics strives to develop a wide range of analytical and critical thinking skills which opens up many diverse career opportunities for students. B.A Hons. (Economics) prepares students for a career not just in business, banking, and government but also in areas such as urban planning, international development, policy analysis, education etc.
JECRC University is one of pioneer Higher Education Institutions of Rajasthan providing education not only in Engineering and Sciences but also in Humanities and Social Sciences. JECRC University always strives to provide a dynamic and innovative learning of market oriented skills sets. Rajasthan has been the hub of economists with global recognition like Prof. M.V. Mathur, Prof. Raja J.Chelliah, C.Rangarajan, Prof. Raj Krishna, Prof. Y.K. Alagh, Dr. Ramesh Bhatia, Prof. Kanta Ahuja, Prof. V.S. Vyas, Prof. C.S. Barla, Prof. M.S. Nigam, Prof. J.M. Joshi, Prof. M.L. Chhipa, Prof. S.K. Jain, Prof. D.D. Narula, Prof. Devi Singh, Prof. Naraian Sinha, Dr. K.B.L. Mathur, Prof. V.N. Upadhayaya, Prof. M.C. Vaish, Prof. B.C. Mehta, Ms. Jyoti Kiran, Dr. L.N. Nathuramka, Dr. Arvind Panagariya, Prof. Nirankar Shrivastav and many others.
Jaipur School of Economics offers the following programmes:-
B. A. (Hons.) Economics 4 Year
B. A. Economics 3 Year
B. A. Liberal Education
M.A. Economics
Ph.D. Economics
The school nurtures budding economists and policy makers by imbibing in them about the dynamics and challenges of moving world. It endeavors to develop a one-of-a-kind model of pedagogy and research in economics and its allied fields. The curriculum is designed to train students in the fields of corporate, academia, analytics or public policy. The expertise of students is enhanced through exposure to the latest theoretical and empirical research.
The Jaipur School of Economics focuses on the holistic development of the students. Holistic is an all encompassing term which includes intellectual, material and spiritual dimensions of learning. The School aim to create and nurture students who can compete with the challenges of the contemporary world.
USP of the School:-
Updated syllabus and techniques/ software according to the latest technologies and practices.
First-hand experience in Applied Economics.
Reasoning Cell is a part of JSE which organizes Expert Lectures, Group Discussions, Quizes, Debates, Youth Parliament and other Extra-curricular activities.
International Credit system.
100 percent guaranteed placement offers.
Exposure of corporate functioning/professional world through summer internship programme.
Memorandum of Understanding signed with various Organizations for providing Industrial Connect such as Institute of Public Enterprises (Hyderabad), BARC (Jaipur) and many more.
Enhanced Industrial Exposure through experiential learning.
Collaboration with 'Coursera' for additional Certifications
Dr. Ravinder Kaur
HOD, Jaipur School of Economics
"The ultimate purpose of Economics, of course, is to understand and promote the enhancement of well-being."
­-Ben Bernanke
Economics is a social science which uses scientific methods to understand how scarce resources are exchanged and optimally allocated within the society. Economists study theories and techniques useful for developing policies in government as they have a deep understanding of how to create efficiency in today's world.
The study of economics helps people understand the world around them. It studies people, businesses, markets and governments, and therefore provides solutions to the threats that emerge when situations change. Economics majors are well- positioned in an ever-changing world because they have problem solving and analytical skills that allow them to succeed in all walks of life. As a broad subject, economics provides answers to a range of health, social and political issues that impact households, wider communities and global world.
The Department of Economics offers under-graduate, post graduate and doctoral programs in Economics. It facilitates development of critical-thinking, data analytics, analytical and problem-solving skills to examine data and support good decisions. Our curriculum focuses on the concepts of tax and inflation, interest rates and wealth, inequality and emerging markets, and energy and the environment, industrial aspects of the subject make the students ready to embrace the future. We offer specialization courses like Financial Economics, Agricultural Economics, Public Policy, Behavioural Economics, Environmental Economics, Population Studies etc at graduate and post graduate levels.
CAREER OPTIONS:
All India Civil Services: IAS, IPS, IFS, IRS etc. ; Indian Economic Service (IES); State Civil Services conducted by State PSCs; RBI Grade B, SEBI Grade A, NABARD Officers ; Statistical Officer, Assistant Statistical Officer, Evaluation Officer etc.; Specialist Officers in banks; Research Positions in NITI AAYOG, IEG, NCAER and other ICSSR Organizations.
Economist, Financial Risk Analyst, Data Analyst, Financial Advisor, Economic Researcher, Investment Analyst, Supply Chain Analyst, Quantitative Analyst, Economic Consultant, Risk Analyst, Actuarial Analyst, Business Analyst, University/ College Professors and School Lecturers, Opportunities in Media Houses as Economic Journalist.
International Civil Servant under United Nations; Research and Economics related positions in various international organizations such as UN, World Bank, World Trade Organization, International Monetary Fund and many more.; Opportunities to work at International Banks such as HSBC, CITI Bank, Deutsche Bank, Royal Bank of Scotland, EXIM Bank and many more.
* These Opportunities are informative but not Restrictive.
REASONING CELL
This cell is supervised by the Jaipur School of Economics and functions through Reasoning and Aptitude workshops. These activities are performed by simulation exercises.
Objectives of the Cell:
To enhance the mental ability and logical reasoning.
To explain the working of an economy in real time.
To impart knowledge about the various concepts of Economics.
To help students in learning and solving aptitude tests for various competitive examinations.
To organize and host a number of events a few of them are, Tussle with Puzzle, Brainwister, Carnivelesque: A Virtual Fresher's Party and others.
Jaipur School of Business offering the following mentioned below programmes:-
Do you have more questions?
Plot No.IS-2036 to 2039, Ramchandrapura Industrial Area, Vidhani, Sitapura Extension, Jaipur – 303905 Rajasthan, India
Tell us a little about yourself and we'll help with the rest. Our convenient online application tool only takes 10 minutes to complete.
After you submit your application, an admissions representative will contact you and will help you to complete the process.
Once you've completed your application and connected with an admissions representative, you're ready to create your schedule.
Are you ready to take the next step toward your future career?