JECRC Incubation Centre(JIC)
inaugrated by Mr. Amit Jain
(CEO & Co-founder of CarDekho)
JECRC Incubation Centre(JIC)
inaugrated by Mr. Amit Jain
(CEO & Co-founder of CarDekho)
JECRC Incubation Centre(JIC)
inaugrated by Mr. Amit Jain
(CEO & Co-founder of CarDekho)
JECRC University has its campus in Jaipur the capital city of Rajasthan and the famous tourist and business city in north-western India. The 32-acre JU campus combines unique classical architecture and thoughtful layout and landscaping to create a perfect learning ecosystem. The campus is located around the prime industrial and institutional hub of Jaipur and is well connected with all parts of the city. JECRC University is driven by the spirit of innovation-led research. This is spelt out in infrastructure as well as practices. The multifaceted research encompasses subject-specific exploration as well as the contexts of the business environment in which our students will operate and perform. JECRC is known for a strong research culture and close industry linkages.
Campus Placements In Last 5 Years
JECRC University offers a brilliant aggregate of carefully curated courses in all the fields. The new age of technology focuses on the changing needs of industry and jobs in preparing our students for brilliant careers by offering new age specializations.
Choice based Credit system is implemented in School curriculum. We are offering programs apart from other Regular Core and fundamental subjects for the students to enhance their skills.
The JECRC University has excellent academic and residential facilities that make up a vibrant campus. The style of the buildings is unique with large rectangular and linear structures dotted around the 32 acre campus with large courtyards.
Business Administration
Engineering
Design
Business Administration
Engineering
Design
Economics
Engineering & Technology
Sciences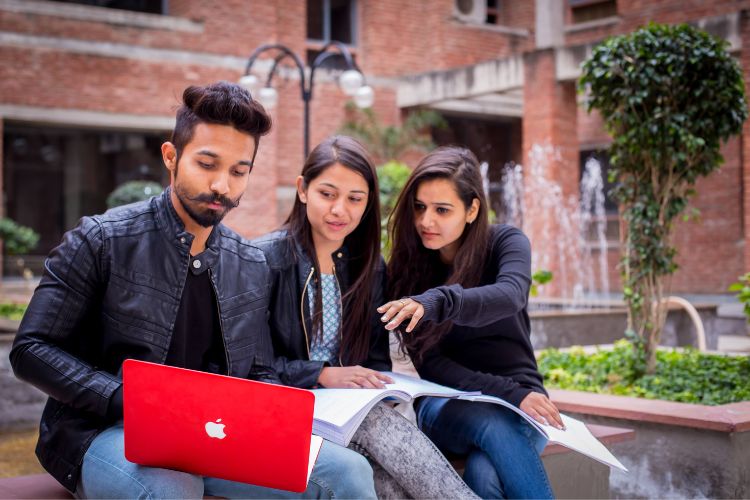 At JECRC University, we prepare you to launch your career by providing a supportive, creative, and professional environment from which to learn practical skills, build a network of industry contacts.
With the objective of encouraging meritorious students and academic excellence, scholarships are offered to deserving candidates based on last qualifying examination.
Joined Degree Collaborations
JECRC University apprehended the changing technology dynamics in the industry, which is influenced by different factors like need of solutions for unsolved technical problems, changing characteristics of the social environment etc. In accordance with this trailing thought and in order to empower the students with the latest & prevailing technological skills, we have collaborated with Industry Leaders like Google, Microsoft, Amazon Web Services, Hewlett Packard Enterprise, Adobe, Tech Mahindra, TCS, IBM, Cisco,  etc
The campus is built to bring together world class experience which truly represents the character of the University. This commitment reflects in everything that you see here architecture and layout, landscaping, training and technology infrastructure, residential and recreational facilities.
Our students create a vibrant and inclusive community
JECRC University houses a wide variety of intramural sports, which are available for graduate students, faculties, and staff members.
Bus fee demand notice – payment of second installment bus fee for the session 2023-2024 – last date 05th december 2023 – Read More
Hostel fee demand notice – payment of second installment hostel fee for the session 2023-2024 – Read More
Fee demand notice – payment of second installment (even semester) fee for the session 2023-2024 – Read More
Technology and Bhartiya Bhasha Summit – Read More
Ph.D. Admission Notice for July 2023  – Read More
Fee Demand Notice – Payment of First Installment (ODD Semester) Fee for the session 2023-2024 – Read More
Notification Of Change In Bank Account Details – Read More
Office Order: Change in Nomenclature of various Blocks in JECRC University Campus – .Read more 
Urgent and Important Notice for all students using JU Bus Service for 1st Shift – Read more
Notice – Fee Reminder – Payment of Academic / Hostel fees for 1st year students in Academic Year 2022-23 studying in all UG / PG Degree Programmes payable on or before 22-11-2022 – Read more
Tell us a little about yourself and we'll help with the rest. Our convenient online application tool only takes 10 minutes to complete.
After you submit your application, an admissions representative will contact you and will help you to complete the process.
Once you've completed your application and connected with an admissions representative, you're ready to create your schedule.
Are you ready to take the next step toward your future career?